Our customers are widespread throughout the world using our quality products. We pioneer with our whole product line giving end to end product to our customers. Our professionals are capable of designing, innovating and tailoring of products to customer specifications and to United Nations standards.
SHAN FZCO is headquartered in Dubai, UAE having business transactions in Bahrain, China, India, Israel, Kuwait, Oman, Saudi Arabia, Tanzania and United Arab Emirates. SHAN represents multi diversified group which believes in "delivering quality with pride".
SHAN has delivered international standard products, research and marketing for military and army sector (both private and government defense institutions), equipments and technology for power generation and storage, transport and logistics services, automotive mechanical, spare and service parts through its trusted exclusive contract manufacturer and service providers.
Dubai World Trade Center Authority
Certificate of Incorporation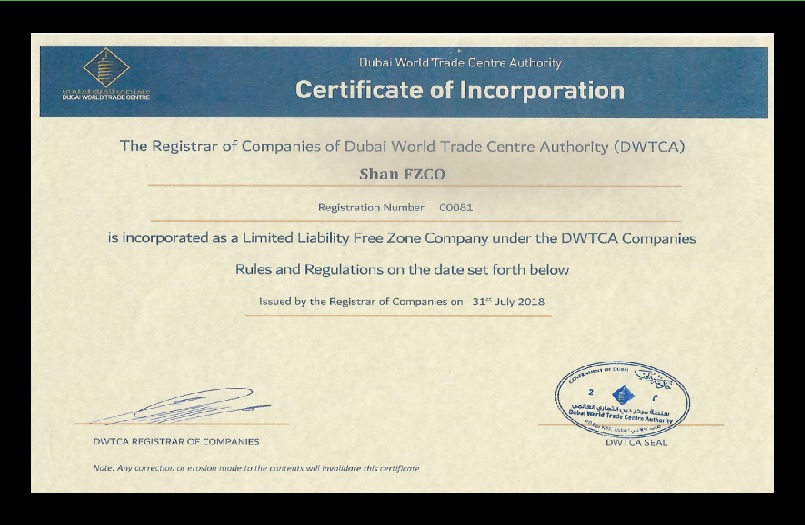 Overview
The products for military and army are backed by heavy research and development units tailored to the user's requirements. Based on our research, our manufacturer can manufacture professional garments, clothes, Hats, Footwears, Backpacks, Bullet proof jackets, Bullet proof helmets, Camouflage Nets, Explosion proof clothing etc We have a whole industry chain of producing logistic military equipment, a perfect system of quality management an environmental protection system, an occupational health and safety protection system.
………………..We Deal With………………..