Features
Shell uniform consist of four parts, jacket, trousers, inner sweater and belt. It is a garment that provides protection from cold, rain and wind and wear by military staff, soldiers during the cold season in forest area.
The product is made of three-layer laminated dyes and printed in mosaic specific color. The base material is 100% Polyamide fabric with ePTFE membrane, the back side is made of polyamide tricot with waterproof treatment.
Keep unchanged functional characteristics, shape, size and color throughout duration of use. Allow the wearer maximum mobility in terms of performance in dynamic. Ensure IR protection. Provide effective thermal insulation resulting for the wearer.
DESIGNED FOR
Military, police, special forces
BALLISTIC MATERIAL
Aramid UD fabric/aramid woven fabric
PERFORMANCE
Up to NIJ0101.06 LEVEL IV by using hard armor plates. At request can be supplied with super thin composite ballistic panel of NIJ0101.06 IIIA LEVEL. Anti-stab protection on demand.
FEATURES
Fully MOLLE mounting surfaces.
Multi-point adjustability by strengthened webbing and buckles
Adjustable shoulder straps with collar support system
Durable Nylon 6.6 construction
Padded mesh interior lining
DESIGNED FOR
Special military operation, army
BALLISTIC MATERIAL
Aramid UD fabric/aramid woven fabric
PERFORMANCE
NIJ0101.06 LEVEL IIIA upgradable to LEVEL III/IV by adding hard armor plates.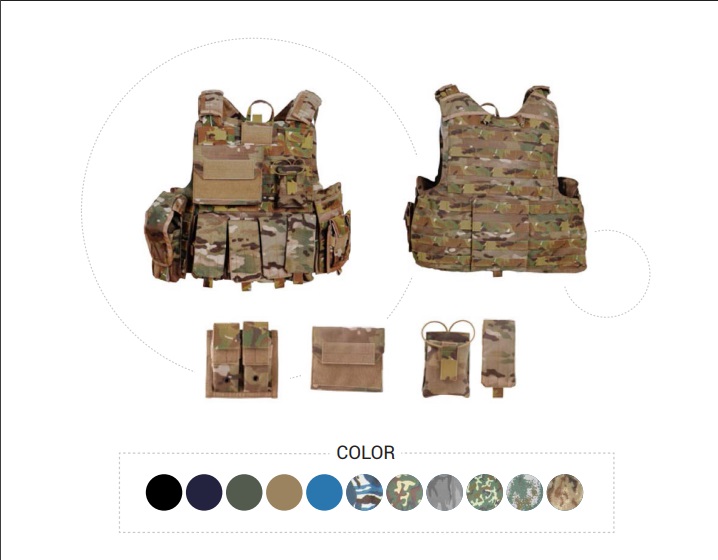 FEATURES
The most classic tactical style with MOLLE system surrounded
Adjustable shoulder and waist
One point release system enabling quick easy doffingin emergency situations
Super reinforced drag handle
Extended,adjustable,foam-padded shoulder straps
Customized pouches attachable for multipurpose
Non-abrasive Velcro tapes
Integrated front flap external cummerbund closure
Military honor guard boot showing the magnificent and mighty of the soldier
high-gradefull grain cow leather, black color
high-quality cow leather linging, sweat
absorbent breathable
foamed rubber outsole, light weight anti-slip and abrasion resistant
Black officer shoe for army, military and police
high-gradefull grain cow calf, black color
high-quality cow leather linging,
sweat-absorbent breathable
foamed rubber outsole, light weight anti-slip and abrasion resistant
Desert boot for army military
Suede cow leather, genuine leather + cotton fabric water repellent
cotton fabric sweat -absorbent breathable
rubber outsole, anti-slip and abrasion resistant
YKK zipper for quickly putting on or taking off
White officer shoe for army military and police
High-grade full grain cow leather white color
high-quality cow leather linging, sweat – absorbent breathable – rubber outsole, anti-slip and abrasion resistant
DESIGNED FOR
Police,military,special forces
BALLISTIC MATERIAL
Multi-layered woven aramid composite matrix
PERFORMANCE
NIJ STD 0106.01 LEVEL IIIA V50>650m/s; outstanding STANAG 2920 sharpnel resistance and EN397 shock absorption performance.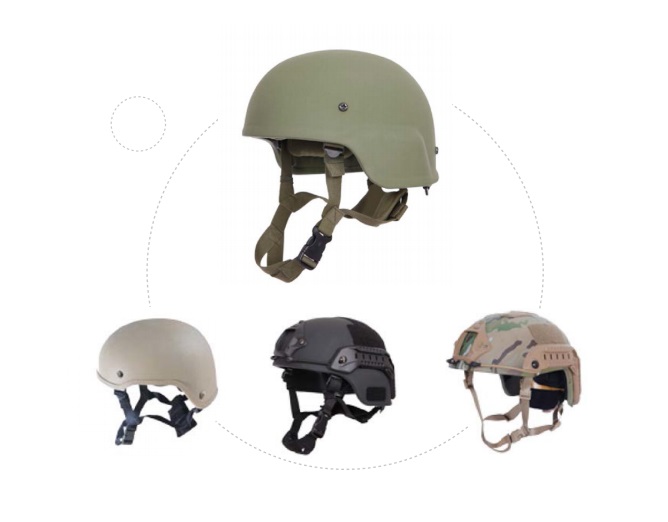 FEATURES
The retention system consisting of 7 heat sealed durable, breathable and low absorbency memory pads Available in MICH HIGH CUT version featuring the advanced suspension system
Easy adjustable harness with a leather lined chin strap, compatible also with Optional 4-points suspension system."H" type and "butterfly" type.
Shape of the shell designed for easy usage of headset.
Lightweight construction featuring self-distinguishing properties.
Features
Quite simply the best tactical backpack on the market
Roomy main storage area
Dual zipping side pockets
Hydration pocket
Stuff-it pocket with integrated draw cord
Reinforced grab and go handle
Wrap-around MOLLE/Slick-stick web platform
Three mesh admin compartments
Zippered fleece-lined eyewear pocket
Hook and loop name type and flag patches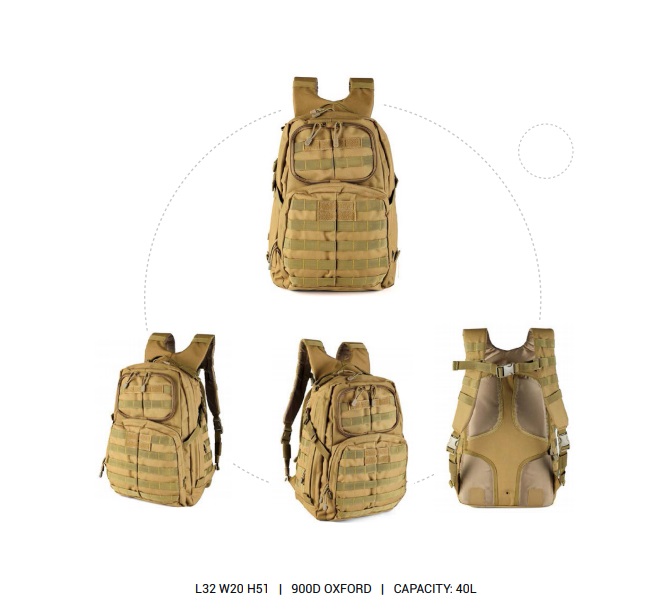 Details
This series of tents are developed for the public security participating in emergency actions to provide as offices, headquarters, meeting room, deformities, warehousees etc. and can even meet the requirements for dining, accommodation, toileting etc.
The Tents carry two slope-roof frame structure which is reasonable and safe enough to sustain 6-scale wind.
Tent Fabric is made of polyester oxford cloth with PU coating which is superior on tensile strength,
tear strength, ageing and rainwater resistance.
The color can be changed to Green, khaki, camouflage depending on the different environment.
Size can be changed for different usage
12㎡ tent is suitable for office and guarding.
24㎡tent is suitable for 8-10 persons' accommodation or warehousing.
60㎡tent is suitable for commanding , meeting , dining and accommodation.
Toilet tent consists of four pedestal pans and three urinals, available area is 15.6
MATERIAL
Ultra-high molecule fibre
Size
WEIGHT
Performance
Resist back-and stab from knife,
strike from steel baton even in the
environment of 40 °C below zero
| | | | | |
| --- | --- | --- | --- | --- |
| TYPE | VGSP-3E ICW | VGSP-3E SA | VGSP-4E ICW | VGSP-4E SA |
| Protection level | NIJ III ICW | NIJ III SA | NIJ IV ICW | NIJ IV SA |
| Specification (mm) | 250*300-19 | 260*300*20 | 250-300*22 | 250*300*24 |
| Weight (kg) | 2.1 | 2.3 | 2.55 | 2.9 |
MATERIAL
Consists Of Shell, buffer Layer, padding, suspension, visor,
neck Production.
FEATURES
Standard shell-mould design, lightweight, high strength, nice appearance, smooth surface, excellent transmittance, wide vision, comfortable wearing, stable and simple operation.
MATERIAL
Molding armor and soft energy absorption material
Structure
Consist of upper and lower body protection components.
Features
Innovative structure, good riot control performance, smooth and comfortable, large protection area, simple operation, etc.
CAPACITY
Features
With Polyester cover
Aluminum body
Plastic lid
Plastic water bottle Stainless steel cup
VOLUME OF WATER BOTTLE
VOLUME OF CAP
TOTAL WEIGHT(INCLUDE CUP, COVER)
THICKNESS
MATERIAL OF HANDLE OF MESSTIN
 low carbon steel wire
Chrome Finish
VOLUME OF OUTER BOX
VOLUME OF INNER BOX
Introduce
Olive green,190T taffeta and PVC coated
copper -metal part
Introduce
600D polyester oxford fabric
PVC coating
Introduce
Dark blue,190T taffeta and PVC coated
copper- metal part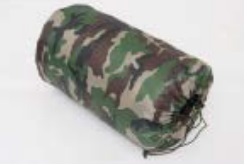 Introduce
Outer fabric without touch the ground- 190T tafeeta, PU coating, water repellent
Lining fabric-190Ttaffeta, without coating and water repellent
Lining-white colour polyester padding
MATERIAL
Size
Black / Tan / Green/ Khaki
N/W (kg)
CTN SIZE (CM)
MATERIAL
Size
Black / Tan / Green/ Khaki
N/W (kg)
CTN SIZE (CM)