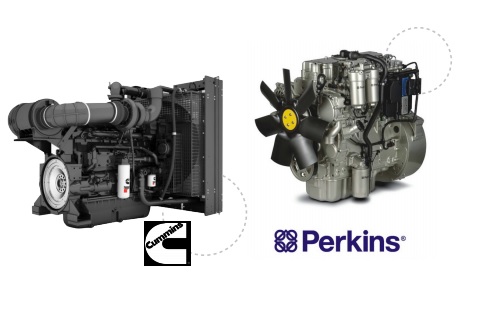 Features
Best in class fuel efficiency
Designed to provide low cost of ownership, simple maintenance and reduced downtime
Compact size
Longer engine overhauling period
Highest horse power in the power generation application segment
Higher block load capacity
Fuel prefilter with water separator
Stamford/Leroy Somer make Alternator
Brushless type 4-Pole, screen protected, revolving field
Self excited alternator conforming to IS/IEC
Insulation Class-H
Standard degree of protection 1p23
Solid state Automatic voltage regulator
Integration with epoxy varnish
Better motor starting capability
Stator winding design for improved harmonics
Deep Sea PLC UK (DSE) AMF Controller
Safety for Over / Under Voltage / Frequency / Speed Overload, Canopy Fan Fault, Load Imbalance, Low Lube Oil Pressure, High Cylinder / Water Temperature, Low Fuel Level, Radiator Coolant low, Charging Alternators etc
Stamford/Leroy Somer make Alternator
Fleetguard air housings, air cleaners and intake components meet the needs of over 200 Original Equipment Manufacturers (OEM). Fleetguard leads the way in air filtration technology through state-of-the-art design and manufacturing capabilities worldwide. We have the experience and technical expertise to design air filtration systems that exceed application requirements and maximize system potential Fleetguard manufacturing facilities around the world produce air filtration systems and are QS 9000, ISO 9001 and/or TS16949 certified. All performance data displayed in this section is based on ISO 5011/SAE J726 standards.
Fleetguard products are used in a wide variety of markets, including:
On-Highway – Heavy and Medium Duty Trucks
Construction and Mining
Agriculture
Marine
Industrial
Features
Under frequency protection with LED indicator
Over Excitation Protection with LED indicator.
Jumper link for 50/60 Hz
Fuse protection
Surge voltage protection at input and outout.
High PIV Power devices used for reliable oneration.
| | | | | | |
| --- | --- | --- | --- | --- | --- |
| Per Sensing Input Voltage | Frequency | Output DC Voltage | Output DC Current | Resistance | Regulation |
| 2 Phase (9415 v)+N | 50-60 Hz | 380v DC | 10A DC Forcing 18A DC for 15 Sec. | 30 Ohms. Min. | ±1% |
Features
Short Circuit Protection
Reverse Polarity Protection
BOOST Function for Quick Charging
LED Indicator
Mounting Options : Screw type , DIN RAIL channel
Wide Universal Operating Range
No and NC Charger fail relay outputs
High conversion efficiency
Regulation : £0.8 %
| | |
| --- | --- |
| Input AC Voltage | Frequency |
| 95-265 V AC | 50/60 Hz |
| | |
| --- | --- |
| Output DC Voltage | Output DC Current |
| 13.7v DC | 6 Amper |
Features
Constant output voltage upto 10Amps
Constant Current down to 4VDC
Auto Boost
Short Circuit protection
Fail (Relay) output
Reverse connection protection
Wide range operation voltage
High temperature protection
Suitable for Lead Acid battery
Mounting on DIN RAIL TS-35/7.5
| | |
| --- | --- |
| Input AC Voltage | Frequency |
| 140-275 V AC | 50/60 Hz |
| | |
| --- | --- |
| Output DC Voltage | Output DC Current |
| 13.65V DC | 10 Amper |